Fruit Crumble with Homemade Custard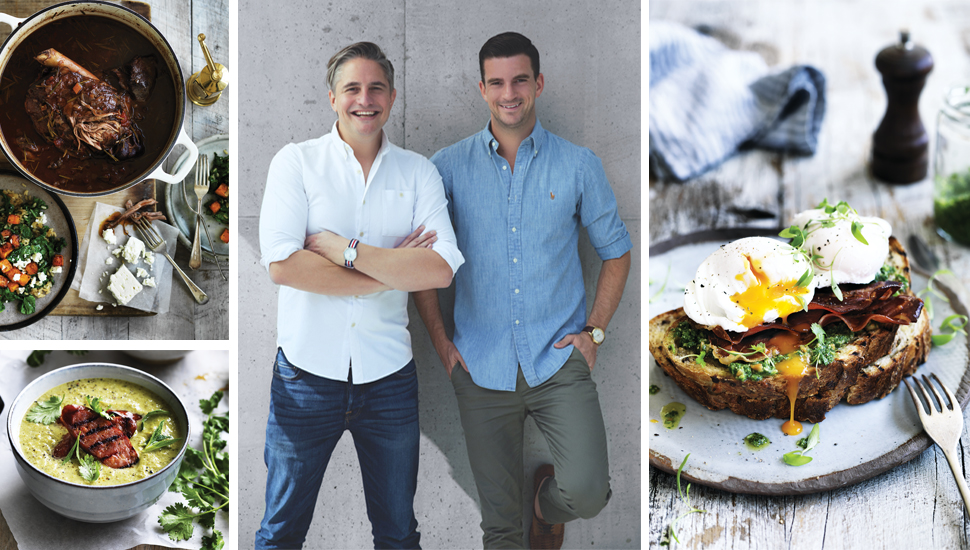 Recipes by Will and Steve


Prep and Cook Time: 1 Hour  | Serves 4-6

Ingredients
100g hazelnuts
150g spelt flour
100g unsalted butter, chilled
and cubed
100g brown sugar
100g rolled oats
3cm piece of fresh ginger, grated
pinch of sea salt flakes

Filling
125g blackberries
125g blueberries
250g raspberries
500g strawberries
100g sugar
1 vanilla pod, split and seeds scraped
1 cinnamon stick
juice of 1 lemon

Custard
2 egg yolks
1⁄4 cup sugar
300ml thickened cream
200ml milk
1 vanilla pod, split and seeds scraped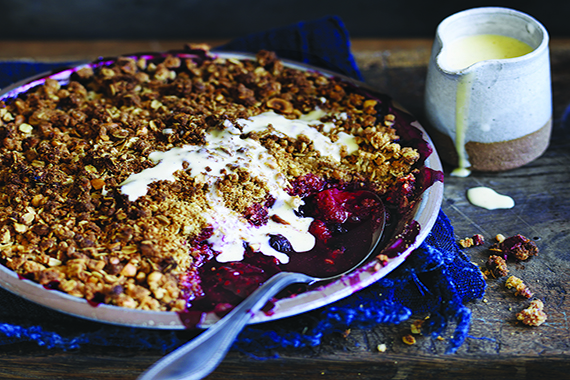 1. Preheat the oven to 180°C.
2. Spread the hazelnuts on a baking tray and toast in the oven for 10 minutes. Remove and allow to cool for 5 minutes. Place the nuts in a clean tea towel and firmly rub together to remove their bitter skins. Discard what you can of the skins, then crush the nuts using a pestle and mortar or the end of a rolling pin in a bowl.
3. For the filling, combine the blackberries, blueberries, raspberries, strawberries, sugar, vanilla pod and seeds and cinnamon stick in a large saucepan. Cook over a medium heat for 15 minutes until the mixture begins to cook down and become syrupy in texture. Remove the vanilla pod and cinnamon stick and transfer the macerated fruit to an
ovenproof dish.
4. Place the flour, butter and brown sugar in a large bowl and, using your hands, lightly pass the mixture through your fingers, working the ingredients together until a crumb mixture forms. Add the hazelnuts, oats, ginger and salt and continue to work with your fingers until combined.
5. Pour the crumble mixture onto a baking tray and bake in the oven for 10 minutes, giving the crumble a little stir after 5 minutes. Remove from the oven, sprinkle the crumble over the fruit, then return to the oven for 25 minutes until the crumble is golden brown. Allow to rest for at least 10 minutes.
6. For the custard, in a clean bowl, whisk the egg yolks together with the sugar until pale and thick. Combine the cream, milk and vanilla pod and seeds in a saucepan and bring just to the boil. Turn the heat down until just simmering. Pour one ladle of the hot cream mixture into the sweetened egg yolks, whisking constantly. Repeat
this process twice more. At this stage you have tempered the egg yolks and can now incorporate the mixture into the cream. Whisking constantly, slowly pour the yolk mixture into the hot cream. Once all the mixture has been added, continue to whisk over the heat until the custard thickens. When the custard coats the back of a wooden
spoon, it's ready.
7. Present the crumble with the custard in a jug on the side.


Recipe from 'Will and Steve | Home Cook, Aspiring Chef'

www.willandsteve.com.au




Photo Credit: William Meppem
INSPIRATION
Check this out