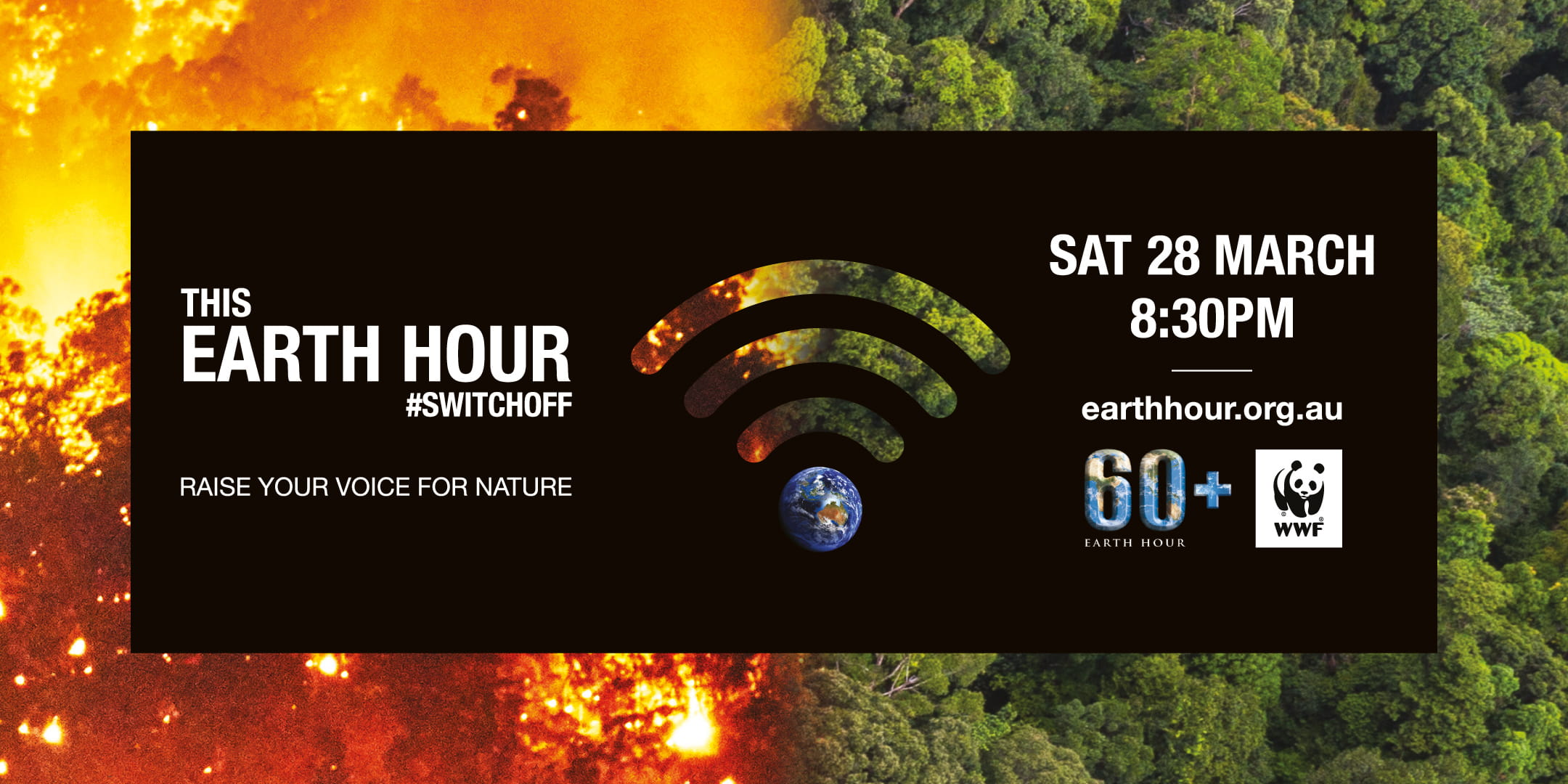 ❗️💡 UPDATE 📣 EARTH HOUR IS GOING DIGITAL 💡❗️

Join us to #SwitchOff and raise your voice for nature

Saturday 28 March, 8.30pm - 9.30pm

The impacts of the climate emergency are being felt across our country more than ever before. This summer alone:

- Over 12 million hectares of Australian land burnt during an extended fire season
- Over 1.25 billion native animals perished in the catastrophic bushfires
- Many of our cities were shrouded in toxic smoke haze
- Farms and regional towns have been devastated by drought

Greenwood Plaza is participating in Earth Hour, where we'll join others around the world to #SwitchOff all non-essential lighting. We're joining millions in Australia and across the globe in sending a strong united message to protect our extraordinary Earth and #SwitchOff.

Join us and register to #SwitchOff at https://www.earthhour.org.au/

💻💡 EARTH HOUR IS GOING DIGITAL 💡💻

In light of the COVID-19 outbreak, you can celebrate Earth Hour a little differently. If you're staying in on Saturday 28 March, you can still #SwitchOff and celebrate the most important Earth Hour from the comfort of your own home!

Whether you're social distancing or simply staying in, together we'll still be able to celebrate, #SwitchOff and raise our voices for nature!

Live streaming music acts and more for you to watch in the dark right on >> https://www.earthhour.org.au/earth-hour-live.

Sustainability and climate action is important to us:

Greenwood Plaza, and all our retail centres at Mirvac are committed to reducing our impact on the environment. Our sustainability strategy, This Changes Everything , sets our clear targets to ensure we continue to have a positive environmental and social impact, and make better choices in all that we do.

In December 2019, Mirvac became the first Australian property group to join RE100. RE100 is a global corporate clean energy cooperative of businesses committed to 100% renewable power. Our NSW,

VIC and ACT portfolio of centres have been on 100% renewable energy supply since 1 January 2020. Our QL D centres will transition to 100% renewable energy by the end of 2020. This initiative is just one of many that we have been undertaking to achieve our sustainability goals, which include net positive carbon, net positive water and zero waste by 2030.
The Mirvac Group (Mirvac Limited and its controlled entities) collects and uses personal information about you to provide you with information you request from Mirvac. Mirvac also uses your personal information for related purposes including to request your feedback on the products and services provided by Mirvac. If you do not provide all the personal information Mirvac requests from you, Mirvac may be unable to provide these products or services to you.
Mirvac may disclose personal information about you to third party agents and service providers to assist Mirvac in the operation of its business to provide the products and services you request. Your personal information may also be disclosed to overseas recipients who use the personal information to assist Mirvac in the operation of its business.
The Mirvac Group Privacy Policy (available on www.mirvac.com) contains information about how you may request access to and correction of personal information Mirvac holds about you, or to make a complaint about an alleged breach of the Australian Privacy Principles.
Promotion of other products and services
By submitting this form, you agree to Mirvac using your personal information to promote its products and services. If you no longer wish to receive promotional information from Mirvac, you may advise Mirvac of your wish. The Mirvac Group Privacy Policy contains information about how you may send your request to Mirvac.