About Top Juice: Top Juice is your one-stop-shop for delicious, healthy and convenient food. Top Juice sources the freshest produce, as well as exotic fruits and vegetables, to create a nutritious seasonal menu. With everything from juices, smoothies and protein shakes to salads, gourmet yoghurts and indulgent chocolate-dipped strawberries, Top Juice has a great range of unprocessed and guilt-free treats.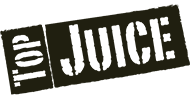 Top Juice Trading Hours
Monday - Saturday
9:00AM - 5:00PM
Sunday
Closed
Top Juice, Greenwood Plaza, Juice, Salad, North Sydney.